Edition "Get to Know Serbia"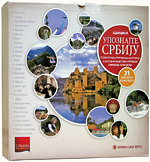 How much do we really know about this country and this people, about their history and culture, natural beauties, important people, artists and works, cities, symbols, music, gastronomy, wines, humor...?
Based on the belief that to know is a prerequisite for to love, edition "GET TO KNOW SERBIA" teaches us what we have not learned yet, reminds of what we have forgotten, and stimulates us to go to places where we have not been. Its volumes are pretty, practical, excellently written and lavishly illustrated.
An excellent gift for you, your children, friends, business and other partners!
Format of each volume: 19.5x19.5 cm.
Volume: 24 pages (total 504)
21 volumes in a set, on kunstdruck paper,
full color, wire bound, in a special box!